Over the last few months, I've set the intention of spending at least a few minutes each day in VR, ideally with a new experience. Trying out a variety of XR applications and films is the best way to really understand the scope of what is possible in the medium and also avenues for branching out in new directions with your own work.
So, I was excited to see that Viveport has partnered with the Montréal, QC Canada based Festival du Nouveau Cinéma to release a number of the festival's VR offerings online. As difficult as it may be for festivals to adapt to Covid-era restrictions, the pandemic has opened up festival offerings to larger audiences as organizations adapt and put more offerings online. For those of us who can't usually travel to onsite festivals, this is a great way to experience new VR pieces which might never otherwise be accessible due to VR's distribution problems.
The Festival du Nouveau Cinéma is a long-running and well-regarded festival with mostly standard screen-based cinema offerings. While some screenings are still being held 'on location' in Montréal this year, the festival has moved online for much of its programming, including all of the immersive pieces. FNC has partnered with Vive and Viveport to make the immersive works — called the Explore category — available to audiences worldwide. All of the works on the platform aside from Agence, are available on the Viveport platform for free through the 18th of October, either as direct downloads or through the Viveport Video app. Agence is available as a separate purchase for $2.99 on all major VR distribution platforms.
The festival separates its XR prizes into two categories, a 6-DOF animation prize (Prix Horizon) and 3-DOF (Prix Panorama VR).
Here's a quick summary of the 6-DOF experiences:
Agence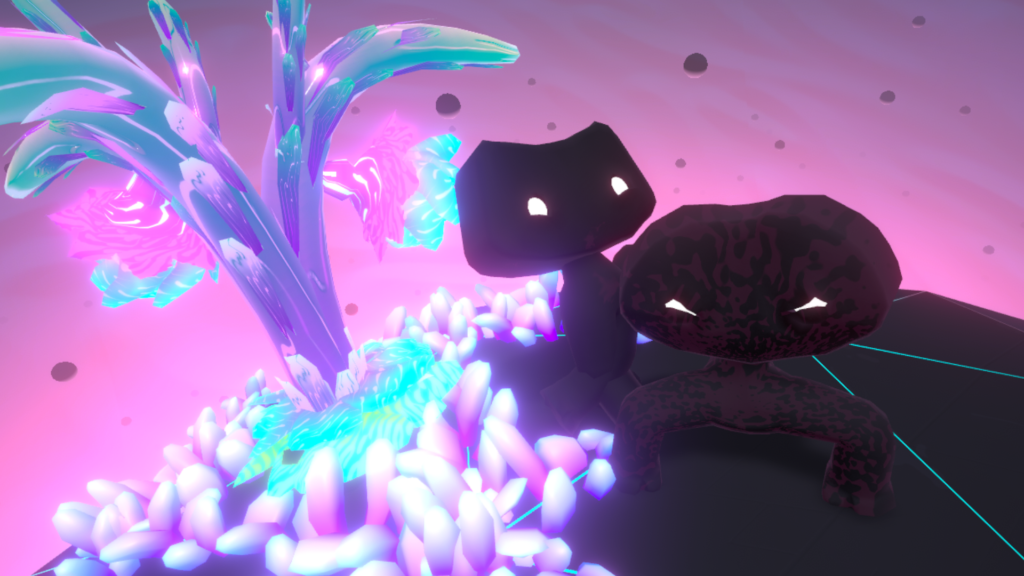 Agence follows a group of artificially-intelligent creatures that live on a small planet poised above a swirling void. The narrative evolves as you interact with the world and it's creatures. Though the interactions are limited — planting 'flowers' and moving the creatures — it is fascinating to watch the world evolve in different ways with each playthrough. Because the worlds blend into one another (another world is created as soon as a narrative ends), you may find yourself caught up in exploring the possibilities for quite a while, as I did.
The unique aspect of this experience is the artificial intelligence that drives the 'Agents' — while some agents rely on traditional game-AI algorithms to drive their behaviors, others are adaptive reinforcement learning agents, which react with greater complexity. Additionally, Agence's creators have suggested that the reinforcement learning algorithms that train these agents may be updated over time, meaning that the experience will continue to evolve.
Note that Agence requires additional payment of $2.99 on the Viveport platform.
An Ode to Moss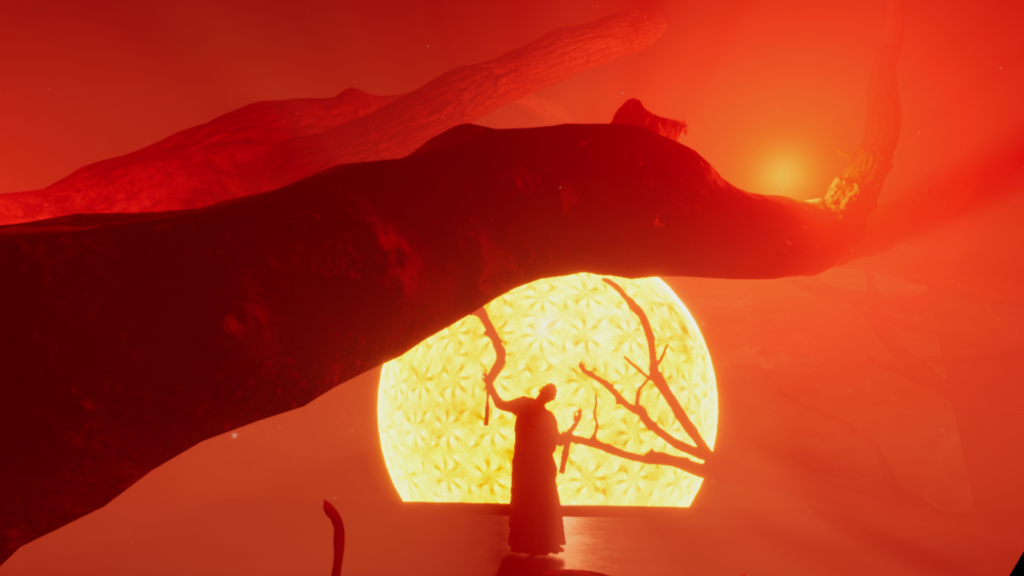 This immersive musical piece brings you through a strange, apocalyptic landscape populated by motion-captured dancers. It's a brief experience — just 6 minutes — but has some striking moments. The experience is 'on-rails' and I can't help but wish there was a little more control over the pacing, as well as more spatialized audio. But considering it is an extended music video, it felt very effective. It's also a good demonstration of how to create a forced-movement system without causing discomfort for the audience.
The Book of Distance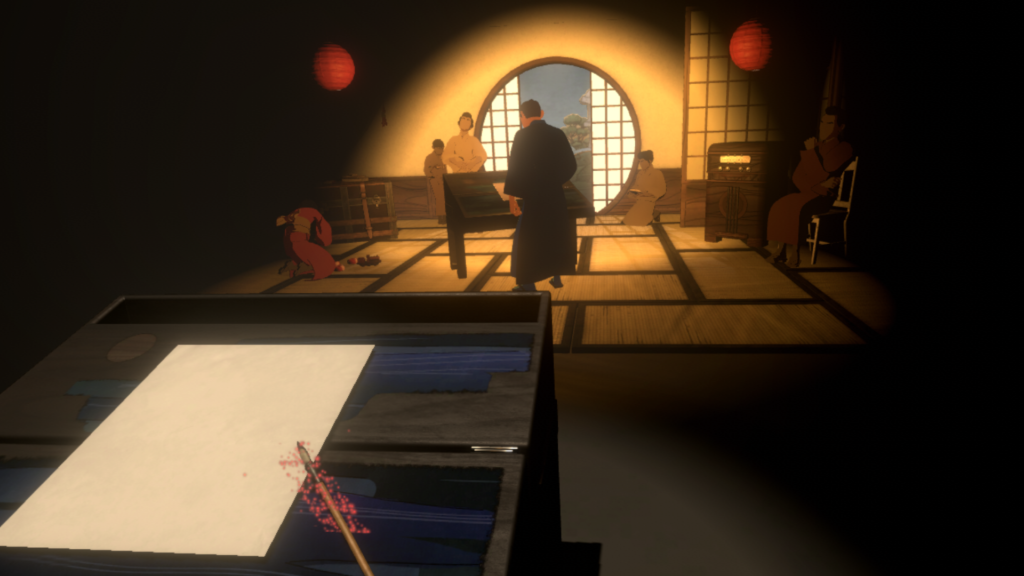 The Book of Distance traces a life across time and continents, as the narrator Randall Okita recounts his grandfather, Yonezo's, story. Yonezo left Japan as a teenager in 1933, and built a farm and family in British Columbia before it was torn away due to Canada's internment policies during World War 2.
The user is asked to interact with the environment at key points in order to advance the story. This strategy was an effective way to make the user feel involved with the narrative and helped build identification with the protagonists — ultimately the piece is quite moving. Visually, The Book of Distance makes recurring use of several themes: photography, theater (through lighting and 2-dimensional 'flats' that fly in or out of the scene), and the book, which oddly was less developed than the other visual themes. All of these elements might make the experience sound disjointed, but in fact the experience is quite coherent and effective.
The Hangman at Home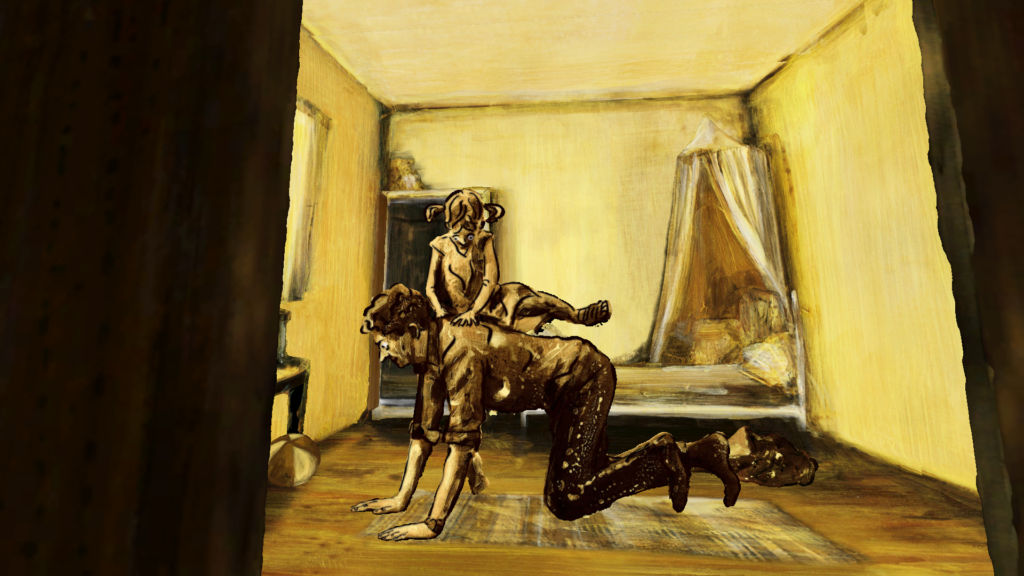 The Hangman at Home is animated with a hand-painted/drawn quality by the team Michelle and Uri Kranot, who have otherwise made several other acclaimed XR works and installations. In fact, the Hangman at Home, which is based off of the Carl Sandburg poem of the same name, won the Grand Jury Prize for Best Immersive VR work at this year's Venice Film Festival.
The piece is visually compelling, and very polished, though I struggled with the opening scene and understanding how to interact with the matchbox to move on from the title screen. Ultimately, an animated short film as well as a multi-user VR experience will be released as part of this project some time in 2021 or beyond.
Of special interest to XR creators is a chance to take a Master Class with Uri and Michelle Kranot on October 17th at 10am. If you are a French-speaker, this is a great chance to learn from some boundary-pushing animators (tickets here https://nouveaucinema.ca/fr/evenements/explore-classe-de-maitre-uri-et-michelle-kranot).
The Line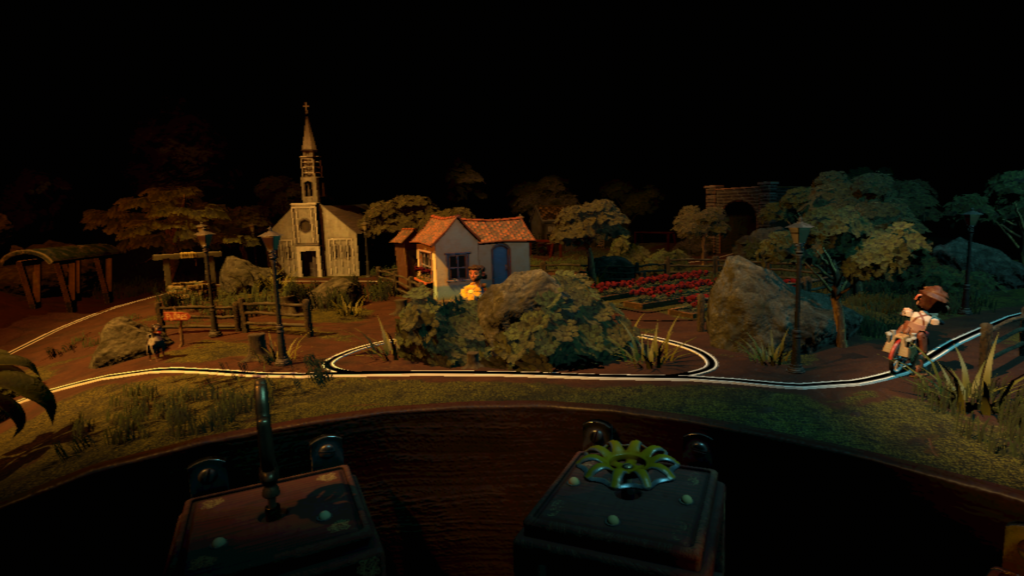 The Line is a beautifully animated 12-minute piece set in a lush miniature landscape, with model buildings and vehicles and dolls that move about the scene on tracks, repeatedly tracing the same paths each day ('The Line' of the title). The visual appeal of the piece is amplified by the excellent spatial audio production, where each element sounds specific and evocative. The story is sweet, with some surprising turns in its short length.
There are some interactions, but they are tied to the miniature world theme, rather than being something that changes the outcome of the story or brings you into the world — in fact, they have a bit of a distancing effect. Nonetheless, they are satisfying enough and don't detract. Overall, The Line has amazing production values and polish and is an uplifting narrative experience.
The Line requires a Viveport Infinity subscription or costs $4.99 on Viveport.
Minimum Mass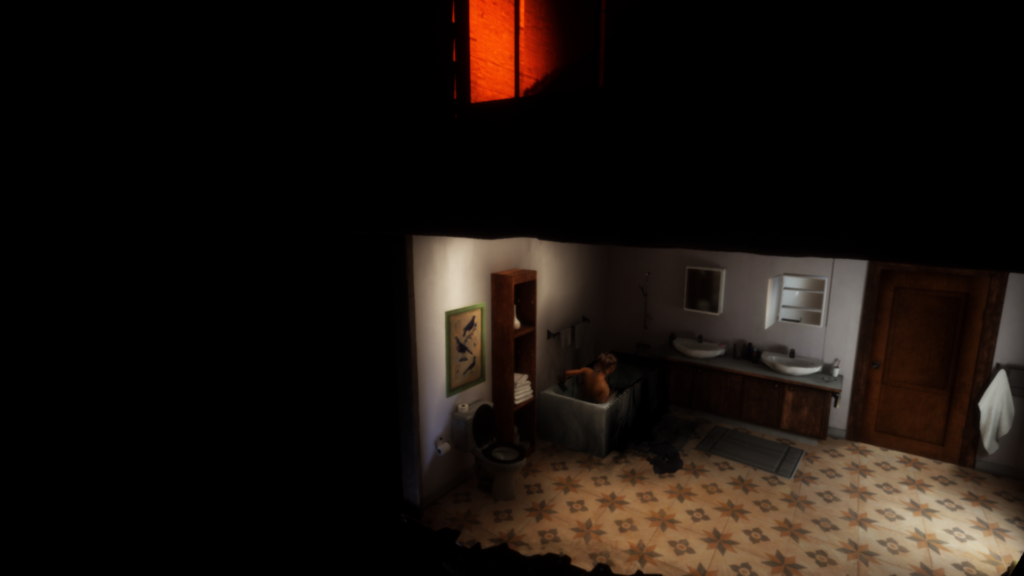 Like The Line, Minimum Mass makes use of miniature scale, but to different effect. While the scale in The Line suggests whimsy, the small figures that populate the apocalyptic world of Minimum Mass are vulnerable.
The user can interact with the world by moving the landscape up and down as well as rotating it. In one instance, manipulating the landscape provides a much more interesting view of the action, so it was strange that the 'default' view of the scene was from a less compelling perspective. Also, though this mechanic was interesting, in most cases changing the viewpoint was not significant, so ultimately the idea felt underused.
In the program description for Minimum Mass, it reads 'Minimum Mass is the story of a couple experiencing a series of miscarriages, pushing them to believe their children are being born in another dimension.' While I didn't necessarily understand the second aspect of the storyline from the piece itself, it is haunting as it stands.
In addition, there are several 3-DOF entries, available via Viveport Video. These are:
1st Step — From Earth to the Moon
Au Pays du Cancre Mou?
Daughters of Chibok
Hominidae
Meet Mortaza VR
O
Recoding Entropia
If you have time, it is well worth it to jump into as many of these experiences as you can — especially if you haven't tried a wide range of VR applications in the past. It's a great way to understand what works and doesn't, and to learn from some very talented content creators.
Beyond that, Viveport Infinity, Viveport's subscription service, is a good investment if you're looking for a cost effective way to try out a number of VR games and applications. Usually, it's possible to subscribe to Viveport Infinity for less than $10/month, which gives you unlimited access to hundreds of titles.